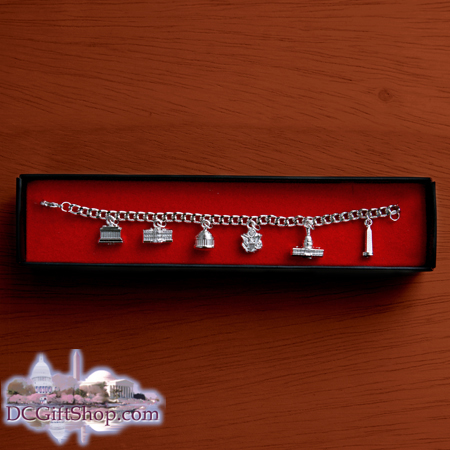 $18.00

PRODUCT ID : 9813115
All metal, silver colored bracelet featuring metal charms including the Lincoln Memorial, The White House, The Jefferson Memorial, the Great Seal of the United States, the US Capitol Building and the Washington Monument. 6.75 inches in length.
There may be no better way to be reminded of the iconic monuments of Washington, DC than to wear them on a charm bracelet. Charm bracelets have been around for tens of thousands of years: there is evidence from Africa that shells were used for adornments around 75,000 years ago. In Germany intricately carved mammoth tusk charms have been found from around 30,000 years ago. In ancient Egypt charms were used for identification and as symbols of faith and luck. Charms also served to identify an individual to the gods in the afterlife.

Payment methods accepted









Billing Questions please call 202.285-3238