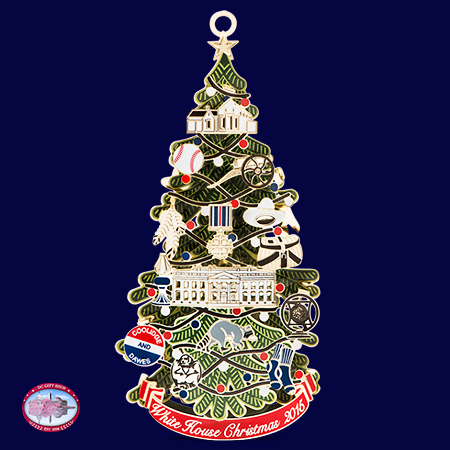 $26.00

PRODUCT ID : WHCO022315B1
The administration of Calvin Coolidge, thirtieth President of the United States from 1923 to 1929, is the inspiration for the 2015 White House Christmas ornament. Crafted from shiny brass plated with nickel and 24kt gold, the ornament depicts the first National Christmas tree, which is decorated with ornaments representing the events of Coolidge's life and Presidency.

At 5:00p.m. on Christmas Eve, 1923, President Coolidge pressed a button to turn on more than 2,500 lights on the National Christmas Tree, a 60-foot tall fir from his native Vermont, on the Ellipse. At the Coolidges' invitation, more than 6,000 people then arrived on the White House grounds to sing Christmas carols and enjoy the music of the U.S. Marine Band. President Coolidge became the first chief executive to preside over a public celebration of the Christmas holidays.

The 2015 White House Christmas ornament is the first White House Christmas ornament to include an illuminating LED light in its design. The light discretely blends into the ornament design, and can be turned on and off from a small switch on the back of the ornament. When turned on, the soft white light casts a warm glow through the windows of the Coolidge White House. The ornament design includes both the north and south facades of the White House. In total, the tree includes 14 individual ornaments and is topped with a star similar in design to the first National Christmas Tree.

The ornament's light bulb and battery are estimated to have 100 hours of display life. The number of illuminated hours is an estimate and not a guarantee. The light bulb and battery cannot be replaced, nor can the ornament be returned for a replacement after the light bulb burns out or the battery runs out. The ornament has been designed so that you may enjoy it for years to come without the light feature. Thank you for your understanding, and we hope you truly enjoy this one of a kind treasure.

Payment methods accepted









Billing Questions please call 202.285-3238