$40.00

PRODUCT ID : DCGS091214B4
The Great Seal Cufflinks are die struck, 3/4 inch diameter polished gold electroplate, red enamel background. Swivel cuff link action attachment; packaged in two-piece gift box. Secure your button shirt cuffs with this fine piece of jewelry. Like the American flag, our red cufflinks signify the hardiness and courage of the American man.
Complete your attire with our The Great Seal Red Lapel Pin.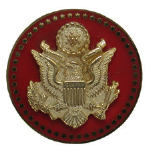 Payment methods accepted









Billing Questions please call 202.285-3238