American Pride Christmas Ball
$15.00
No Christmas tree is complete without the American Pride Christmas Ball.
This silver ball is 3" in diameter and celebrates American Pride with the red, white, and blue of the American Flag and the words, "God Bless America" underneath.
Whether you are looking for a holiday ornament, a tree ornament, or Christmas collectable, this gift will make any Christmas a White Christmas.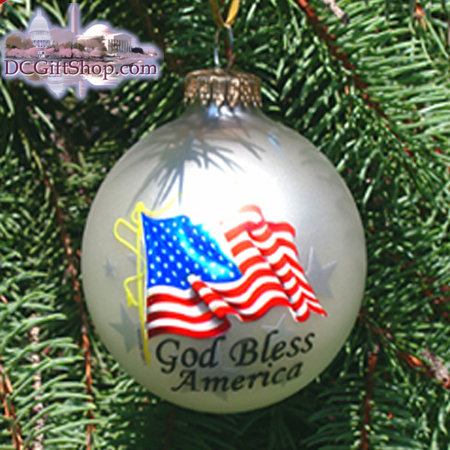 Payment methods accepted

Select quantity of item you wish to order in secured shopping cart
---
Billing Questions please call 301.493-9273
More Christmas Ornaments




2009 US Capitol Holiday Ornament
$28.00
The 2009 Official U.S. Capitol ornament will make a beautiful addition to any tree or just as a stand alone decoration. The Capitol Christmas Tree has been recorded as early as to 1919 but it wasn't until 45 years later (in 1964) that a definite procedure/lighting ceremony was adopted. Elegant in its simplicity (although intricately detailed on the 24k gold-plated border).
Click for More Details
-
More Christmas Ornaments




2009 White House Grover Cleveland Ornament
$22.00
The 2009 White House Grover Cleveland Christmas ornament portraits a cool, snow-falling, winter night at The White House. Inside one of the windows is a huge Christmas tree decorated with ornaments and bright, multi-colored Christmas lights. During his second term as President of the United States, Grover Cleveland and his family had the first Christmas tree to have electric lights in the history of The White House.
Click for More Details
-
More Christmas Ornaments